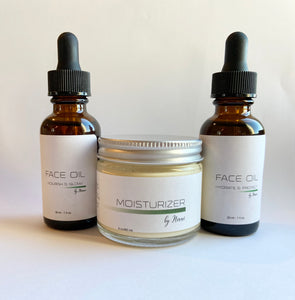 Use the hyaluronic face cream and vitamin C serums in the morning after washing your face and before bed. 

Face Cream
Our lightweight moisturizer is filled with rich ingredients leaving your skin hydrated for up to 24 hours.This multifunctional moisturiser is formulated to help rejuvenate & hydrate dry skin. This all natural formula contains hyaluronic acid and glycerin for maximum hydration, vitamins & antioxidants for rejuvenation. It also contains sunflower oil, peach kernel oil and jojoba oil which are known to soothe and nourish the skin.
+ Helps to reduce the appearance of fine lines & wrinkles
+ Helps your skin to retain moisture
+ Ideal for all skin types
How to use: Apply a pea size amount of face cream and 2-4 drops of face serum of choice in the palm of your hand and mix together. Apply to face and neck. We recommend using the Nourish & Glow serum in the winter months or when your skin is in need of extra nourishment.
+ Helps to reduce the appearance of fine lines & wrinkles
+ Helps your skin to retain moisture
+ Ideal for all skin types
Face Serum - Nourish & Glow 
This face oil is ideal for combination skin that needs hydrating but is prone to being oily. It's lightweight formula won't leave your skin greasy but will help to lock in moisture  
Face Serum - Hydrate & Protect
This face serum is ideal for normal to dry skin  it's lightweight formula doesn't leave your skin feeling greasy but leaves long lasting moisture  
Ingredients (INCI): Aqua, Cetearyl alcohol, Glycerin, Prunus Persica Kernel Oil, Simmondsia Chinensis Seed Oil, Glyceryl stearate, C14-22 Alcohols, Helianthus annuus Seed Oil, C12-20 Alkyl glucoside, C12-15 Alkyl Benzoate,Tocopherol, Retinyl palmitate, Caprylic/capric triglyceride, Xanthan gum, Rosmarinus officinalis leaf oil, Citrus limon peel oil, Salicylic acid, Citric acid, Tocopheryl acetate, Ubiquinone, Sodium hyaluronate, Sorbic Acid, Glucose, Benzyl alcohol, d-Limonene, Linalol